| | |
| --- | --- |
| Posted on September 23, 2015 at 4:40 PM | |
By Jennifer Becker
Something unique about being a pole dancer is that you can go so many directions with it and you can change it up even based on your mood. I love knowing I am not stuck in a singular style, that I can be versatile and change my mind from day to day. It's liberating and energizing. Having a day where you feel sexy and sultry? Strap on your heels and go to town! Had a bad day at work and need to get out some pent up aggression or want to get to work on your body shaping goals? Strap on your ankle weights and rep it out! Feeling deep and emotional? Put on the song that fits your mood and tell the story with your body!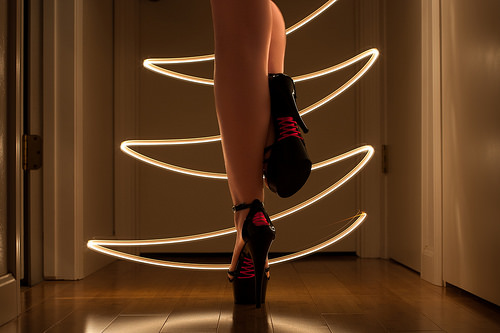 Despite the stigma against pole dancing, we have the opportunity to transcend. I'm not trying to say that dancing at a club is even a bad thing if you do it because you love it! People can just be so judgmental about it. Therefore, when you tell someone you're a pole dancer, they always giggle and ask if you mean you're a stripper. If you're anything like me, at first it makes you feel like you have to defend yourself and make it crystal clear to the person exactly how the pole dance you do is different. I do consider myself an artist and get sensitive about my work. So it's helpful to have your favorite pictures and clips of yourself (or your pole idols) handy to whip out and prove the naysayers wrong. I used to think that I was only about the artistic style and about getting my six-pack back. However, as time has gone on I have learned that it is just as important to defend your sexy side, too, if you enjoy it! When I am dancing all sexy-like in the studio or at home it's usually because I am messing around and having a ton of fun doing it! Maybe my sexy jam came on and I have to shake it! What on earth is there to be ashamed of for that? I'm still burning fat, I'm still building muscle, I am learning about my body, and best of all it feels like I'm just having fun and it makes me feel good. I even ordered my first pair of "gym shoes" and can't wait for them to come in. The only thing that had ever held me back from heels is I had to find the ones that were more my style that I wouldn't feel like I was trying to be anything that I'm not, so I decided to hell with what was holding me back and took a little time to find ones that are right for me.
My point is to take the time to try out every aspect pole has to offer. You might think that you can't be sexy like an erotic dancer, or can't be graceful like a ballerina, or can't do arms only climbs to the top of the pole and back down, but in the end all your saying is the off-limits word-- can't. My challenge to you is simple: stop holding yourself back. Everyone has a favorite song, and I don't think it matters one bit what kind of song it is. Have you tried to dance out how it makes your feel? Everyone wants to feel sexy and desired sometimes. Have you tried just letting go of your inhibitions and let yourself shake it and roll it? Everyone wishes they could have super strength and gorgeous muscles. Have you really pushed yourself with conditioning exercises?
Let's finish September as a month to try something new with pole that you haven't tried yet. Post your new thing in the comments and tell us how it made you feel to have tried it!
Remember all you have to do to enter to win our MONTHLY GIVEAWAYS is to comment and/or share the Epic Blog! Love your faces!

Photo Credit: SimpleSkye via Compfight cc